Water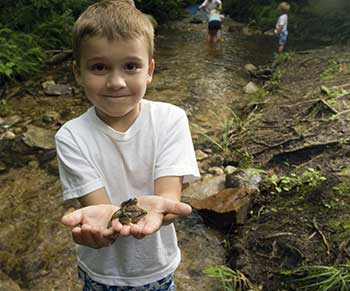 Explore water topics from two perspectives: storm/surface water and drinking/potable water.
Learn about your school's local watershed and things your class can do to reduce pollutants carried by storm runoff.
Activities include exploring non-point source pollution, calculating amounts of storm runoff, cleaning up a section of your watershed, planting native species, and monitoring water quality and habitat.
Investigate ways to conserve drinking water within your school. Projects could include promoting conscientious water use and doing leak assessments of plumbing that should be fixed.
For more information about stormwater projects contact Eric Lambert at Eric.Lambert@clark.wa.gov.
---
Surface and Stormwater
How do we impact water quality?
Healthy Watersheds, Healthy People Environmental Education Guide – From Washington Department of Ecology, a great summary of watershed issues, watershed success stories, and list of resources for finding out more about local watersheds
Know Your Watershed – Activity sheets geared towards water and grounds certification questions.
Make a Lasting Change – Project ideas that could be implemented to certify in water and grounds.
Teacher Resource Page – Summary about stormwater in our community.
Student Watershed Monitoring Network – Resources for K-12 students to collect water quality and habitat data while meeting WA Next Generation Science Standards and share your results with other schools at the Watershed Congress. MORE INFO
WA Next Generation Science Standards
---
Drinking Water
What is your water footprint?
Water Calculator – This calculator helps estimate total water use.
Water Footprint – Find out what your personal water footprint is using this tool.
Average Water Footprint of an American – Information and resources about hidden water usage.
Water Footprint of Our Food – Provides information about the amount of water required to produce foods.
---
Water Conservation
Water Conservation Tools – Tips and tools for conserving water.
Water Conservation Throughout the Home - Tips to help the whole family conserve water.
WaterSense - The why's and how's of saving water including resources for teachers.
Save Water at School - What students, teachers, and district officials can do to conserve water in schools.
Top 10 Tips - from the National Wildlife Federation and their Eco-Schools program.