School Grounds & Gardens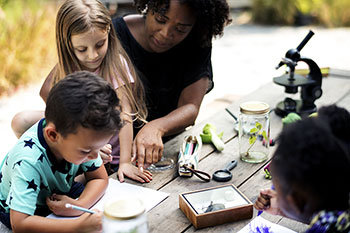 Learn how to incorporate school grounds and gardens into academic curricula.
Integrate the outdoor classroom and foster collaboration with the district maintenance staff and start an edible garden, eliminate the use of pesticides, and plant native species and remove invasive species.
Improve school grounds while connecting to nature with projects such as building trails on your school's campus or planting shade trees.
For more information about stormwater projects contact Eric Lambert at Eric.Lambert@clark.wa.gov. For more information about garden projects, visit the WSU Clark County Extension and the Master Gardener Program, or contact Bekah Marten at rebekah.marten@wsu.edu.
---
Clark County School Grounds and Gardens Map 2022–2023
We've created a map that highlights school gardens, outdoor classrooms, greenhouses and more around Clark County. Each pin represents a school that has an outdoor feature or has plans to add one in the future. If you have more information on any of these schools, please email info@clarkgreenschools.org, and we will add it to the map!
SCHOOL GROUNDS AND GARDENS MAP
---
Resources: free garden-centric curriculum, lesson plans, lending libraries, how-to's, and more!
Garden Guides and Toolkits
Lower Columbia Nature Network School Garden Toolkit
Farm to School Network - Starting and Maintaining a School Garden
Farm to School Network - Starting and Maintaining a School Garden - Spanish
Digging Into Soil - Soil Science Lesson Plans
Local Resources
City of Vancouver Urban Forestry
National/Regional Resources
Washington Agriculture in the Classroom
Oregon Agriculture in the Classroom
Washington State Farm to School Network