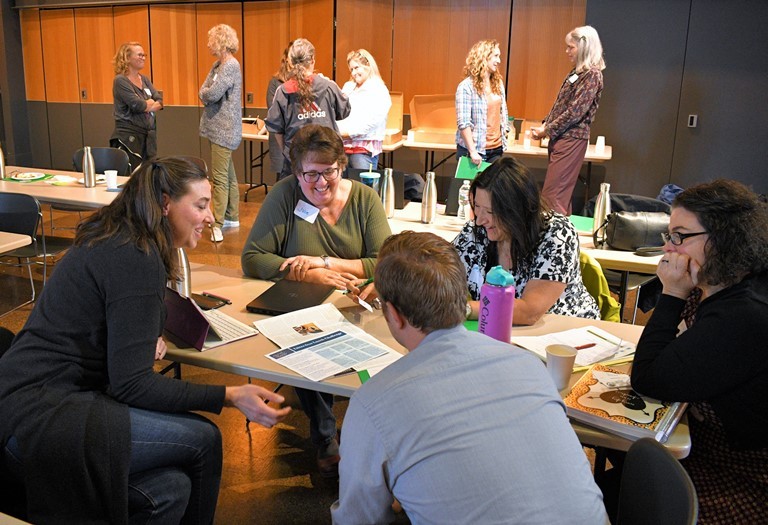 ​Washington Green Schools led an excellent training event on October 8th to kick off the year. Over 20 educators gathered at the Vancouver Community Library and accomplished a lot in a few short hours! They heard from veteran leaders on how to create a healthy Green Team, interacted with the new and improved report card for certification, tried out the new Carbon Calculator tool to find the environmental impact of projects, connected with local partners, learned about engaging their students in digital storytelling to raise awareness of their projects and much more. Participants came away with many tools to use in their schools. If you missed the training and would like to know more, contact us at becky@wagreenschools.org or michelle.sanow@clark.wa.gov
Washington Green Schools also unveiled their plan for continued support throughout the year. The Student Summit has been moved to March in order to allow for a more interactive day where students can share what they've been working on. We have another Educator Training on January 10th to give more tools and assistance for schools to prepare for the Summit. See an outline of the year below.

Using this model, we are hoping that Clark County Green Schools and Washington Green Schools can offer more comprehensive support to help you throughout the year. Last year we added Report Card Parties, where the Washington Green Schools staff was on hand to walk Green Team leaders through the process of filling out the certification report card. These were well received and have been added to the schedule again this year. Look for those in April and May.
Thanks to all who came out to the training and we look forward to seeing you at the next one in January. In the meantime, don't hesitate to reach out to your Clark County Green Schools or Washington Green Schools staff. We work together to support you!
Contact us:
Michelle Sanow, Clark County Green Schools
564.397.7338
Becky Bronstein, Washington Green Schools
206.351.0506